Dental Implants in Port Jefferson Station, NY
---
Smile Shack provides dental implant consultations in Port Jefferson Station, NY. We work with highly trained professionals with the most current knowledge and techniques to provide long lasting results. To learn more and schedule your appointment, please call us today at 631-928-7500 .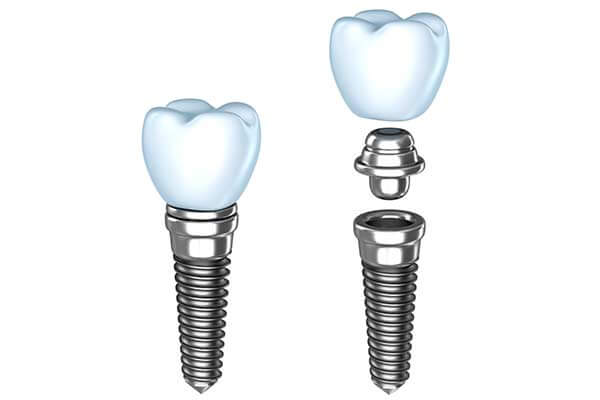 ---
Single Tooth Dental Implants
---
A dental implant is the closest substitute for a natural tooth root. It provides a strong and stable foundation for a replacement tooth. Made from biocompatible titanium, a dental implant actually fuses with the jawbone in a process known as osseointegration. After the several-month osseointegration process, an abutment post is used to attach the replacement tooth to the implant.
---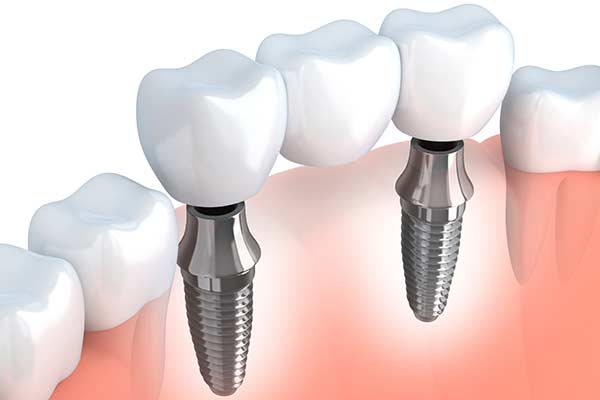 ---
Implant Supported Bridges
---
If three or more teeth in a row are missing, an implant supported bridge can help. A dental implant is placed at each end of the run of missing teeth, and used to secure a bridge consisting of pontics, or synthetic teeth. This type of bridge is strong, secure, and highly aesthetic, and does not damage the neighboring teeth.
---
What are the advantages of an implant supported bridge?
---
Because of the natural look and feel of the porcelain and the functional stability provided by the implants, implant supported bridges are an effective solution to replace multiple missing teeth.
A traditional bridge uses teeth on either side of the gap where teeth are missing for support. An implant supported bridge uses two or more dental implants rather than the adjacent teeth. When a bridge uses natural teeth for attachment, the natural teeth must be prepped for crowns and are then subject to increased stress which may be damaging - particularly if the existing tooth, roots, or surrounding bone structure are already compromised. A dental implant supported bridge replaced your missing teeth and avoids putting any additional stress on your natural teeth.
---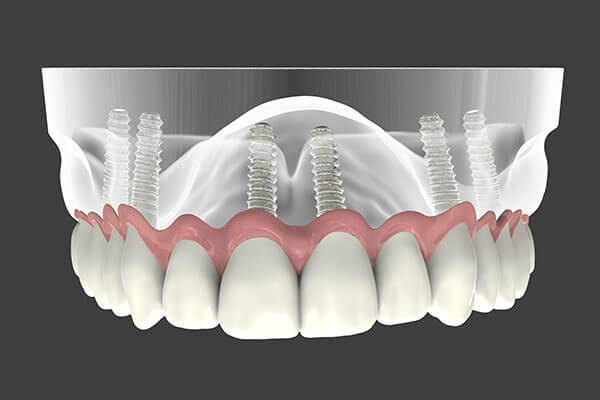 ---
Implant Supported Dentures
---
As few as two dental implants can secure a removable denture, which snaps onto the implants to stay securely in place. The denture will remain stable, rather than slipping or pinching, but can be removed at night or for cleaning.
A fixed implant supported denture requires at least four implants, but is the preferred solution for many people. The denture will remain permanently in your mouth, and can be brushed just like natural teeth. This is the most aesthetic option, and is the best choice for those who do not want to remove their dentures.
If you live in Port Jefferson Station, and are searching for a better solution for missing teeth, we invite you to call Smile Shack at 631-928-7500 to schedule a dental implant consultation.
---
Why should I consider implant-supported dentures over traditional dentures?
---
This technique offers many advantages over traditional dentures.
Easy to care for, this solution can simulate the look and feel of natural teeth and stay fixed in place with the implants acting as anchors. Patients will not experience the typical rocking and movement or gum irritation associated with dentures.
Dental implant placement can also help alleviate the sunken look that can occur with bone loss in the jaw by stimulating bone growth in the area around the implant. This process can also help prevent future bone loss.
---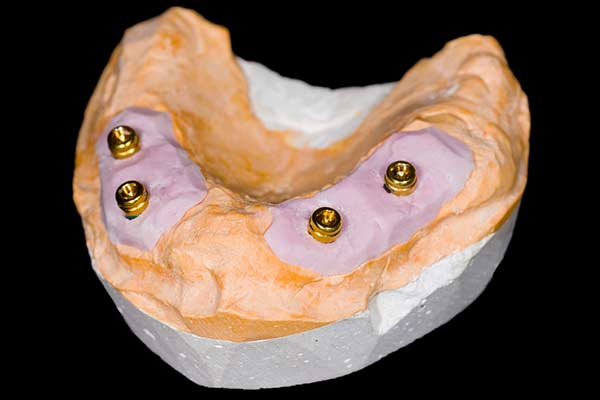 ---
Full Arch with Only Four Implants
---
This procedure is a unique implant solution that allows patients with a completely edentulous (toothless) upper or lower arch to replace all of the teeth in that arch using only four implants as anchors.
---
---
Frequently Asked Questions About Implants & Implant Restorations
---
What are implants and why would I need one?

Implants are a modern way to replace missing teeth or anchor dentures so they don't move around when you're eating. After a tooth is severely decayed, broken or lost due to trauma, we have a few ways to replace that tooth to ensure function and complete overall health.

After a loss of a tooth or multiple teeth, you lose the ability to chew properly and obtain complete health. Teeth are also drifters thus when there is a space for a period of time, teeth tend to shift forward or backward, potentially collapsing your bite and overall face height. Dr. Shack and her staff are highly trained in diagnosing and treatment planning teeth replacements for you to ensure function and complete health.

How is an implant placed?

Like a hip or knee replacement, a titanium post is placed under the gum. The post is attached to the bone, which gives it security and durability. Over the course of a few months, the post fused to the bone and it is then ready for a crown.

Dr. Shack works with highly trained and recommended periodontists and oral surgeons to properly and professionally place implants in the right position and right height for excellent longevity and esthetics.

After I get the implant placed, how do I get a crown (cap)?

Usually after a few months of healing and integration of the post to the bone, Dr. Shack will have you come in to take impressions for an abutment (an attachment from the post to the crown) and ultimately a crown (cap). Once everything is custom made to fit only your tooth, Dr. Shack will cement it.

How do I take care of my implant?

Care for implants are just as important as caring for natural teeth. We recommend flossing daily, brushing twice daily, and rinsing with a fluoride rinse every night. We may recommend additional visits with our hygienist to ensure your implant and teeth are well taken care of.

How long do implants last?

Usually implants last a lifetime if it is properly taken care of. We recommend frequent check-up visits to confirm that your implant and teeth are in good health.

I'm ready to replace my missing teeth and get healthy! What can I do?

You can simply call us at (631) 928-7500 to make an appointment and let us take it from there!