Invisalign®
in Port Jefferson Station
---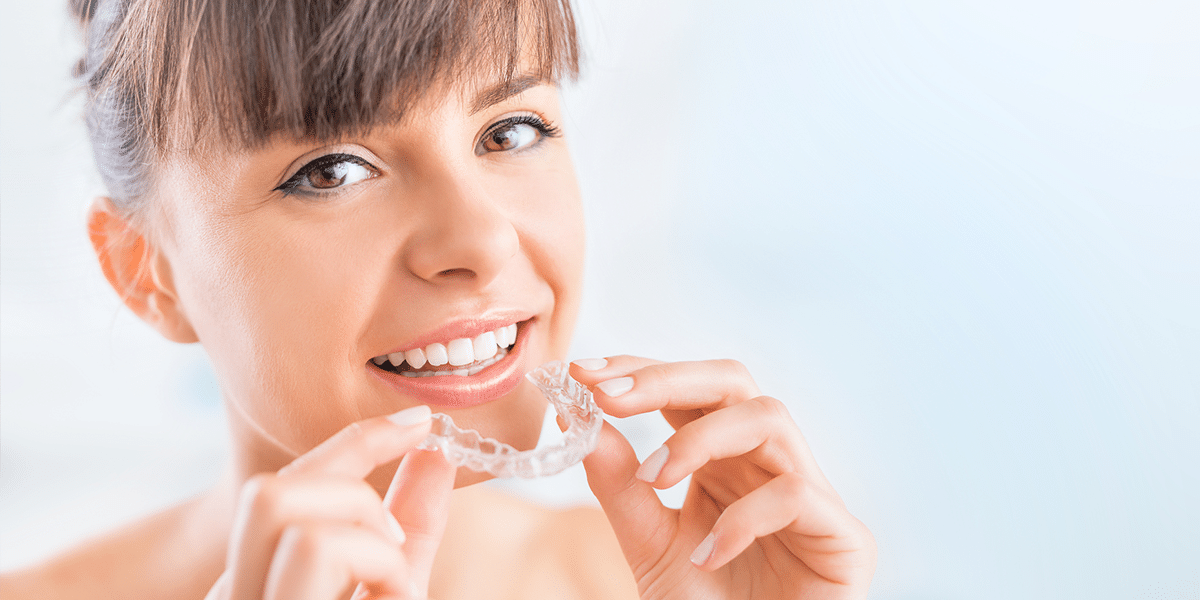 ---
Smile Shack Invisalign® system takes a modern approach to straightening teeth.
---
The Smile Shack Invisalign® system takes a modern approach to straightening teeth, using a personalized series of aligners created for you. These custom aligner trays are made of smooth, comfortable and virtually clear plastic that you wear over your teeth. Wearing the aligners is easy and will gently shift your teeth into the correct position, based on the exact and precise movements we plan out for you.
An advantage of the Smile Shack Invisalign® system is less appointment time and visits for you. Instead of visiting us every 4 weeks, we will be able to give you a few sets of aligners at once. You simply wear a new set of aligners for approximately two weeks and replace them until your treatment is complete. You'll achieve your great smile with little inconvenience to your daily life. Since the aligners are practically invisible, most people won't even know you're straightening your teeth.
---

---

---
Frequently Asked Questions About Invisalign
---
How much does Invisalign cost on Long Island NY?

Invisalign, "invisible braces," or "clear aligners," typically cost between $5500 to $7500 depending on how much correction is needed or wanted. Many times, patients have dental benefits that include a once in a lifetime orthodontic benefit that may cover $500 to $2000.

How do I pay for Invisalign?

Invisalign can be very affordable with new payment options available. CareCredit is one of the many options that can provide patients with financing for treatment. These options may include low-interest rates over 6 months or lower payments over 12-24 months. These offers are subject to credit approval.

You may also invest in your smile with Invisalign using tax-free dollars through your FSA (Flexible Spending Account) or an HSA (Health Savings Account). Be sure to tell us about your account during your consultation.

Is Invisalign covered by insurance?

Many dental insurance companies cover Invisalign Treatment, just as they would cover Conventional Braces or any other orthodontic treatment. The amount of coverage depends on each individual plan and can cover from $500 to $2000.

How painful is Invisalign?

Patients report mild soreness in the first 7-10 days of their first treatment, usually due to the first movements being made in surrounding tissues, teeth, and bone as your teeth start to straighten and your smile becomes healthier.

After the initial week and once the movement begins, patients report the pressure subsides and there is no discomfort when wearing Invisalign.

What's cheaper braces or Invisalign?

Traditional (metal) braces are typically more affordable than Invisalign treatment. Traditional braces involve brackets bonded to your teeth and tied together with a wire. These brackets and the wire stay in your mouth for the duration of orthodontic treatment and you would return every 4-6 weeks to have the elastics replaced and your teeth monitored for movement.

Can Invisalign fix crooked teeth?

Invisalign is a tremendous mode of treatment that allows us to move teeth without traditional bracket and wire orthodontics. Patients who are unhappy with crooked upper or lower front teeth can see results with Invisalign in as low as 10 weeks.

Can Invisalign fix crowded teeth?

Yes, Invisalign is an excellent treatment option to correct mild to moderate cases of upper and lower crowded teeth.

Can you drink and eat with Invisalign?

It is believed that you are able to eat and drink with your aligners but we recommend against it. Chewing food with your aligners may damage the aligners and slow treatment progress. Drinking fluids other than water may damage your teeth because food and drinks may be trapped between the aligner and your teeth. It is recommended to eat and drink without your aligners, brush your teeth and then place your aligners back in.

Is it difficult to talk with Invisalign?

No, It is not difficult to talk with Invisalign. When you first wear your Invisalign aligners you may notice a slight lisp. As you continue to wear your aligners, you will become used to them and you will adapt to the plastic trays. This usually disappears within 1-2 days from the start of treatment.

Can I take a selfie with Invisalign?

Yes! Invisalign aligners are clear and almost invisible. If you are concerned with the plastic tray showing, you can always take them out. Just don't forget to put them back in!

What happens if I don't wear my Invisalign for 22 hours a day?

The optimal amount of time that Invisalign recommends is 22 hours a day. This allows for the constant movement of teeth throughout the day and the least discomfort when changing from tray to tray on a weekly or biweekly basis.

How long will the Invisalign treatment take?

Invisalign treatments are usually faster than traditional braces with fewer visits to your dentist. The average treatment time for traditional bracket and wire braces is 18-36 months. Average Invisalign treatment, in our practice, is 3-8 months!