Teeth Whitening Service in Port Jefferson Station
---
Shack Glo® (Guided Light Optics) Whitening system
---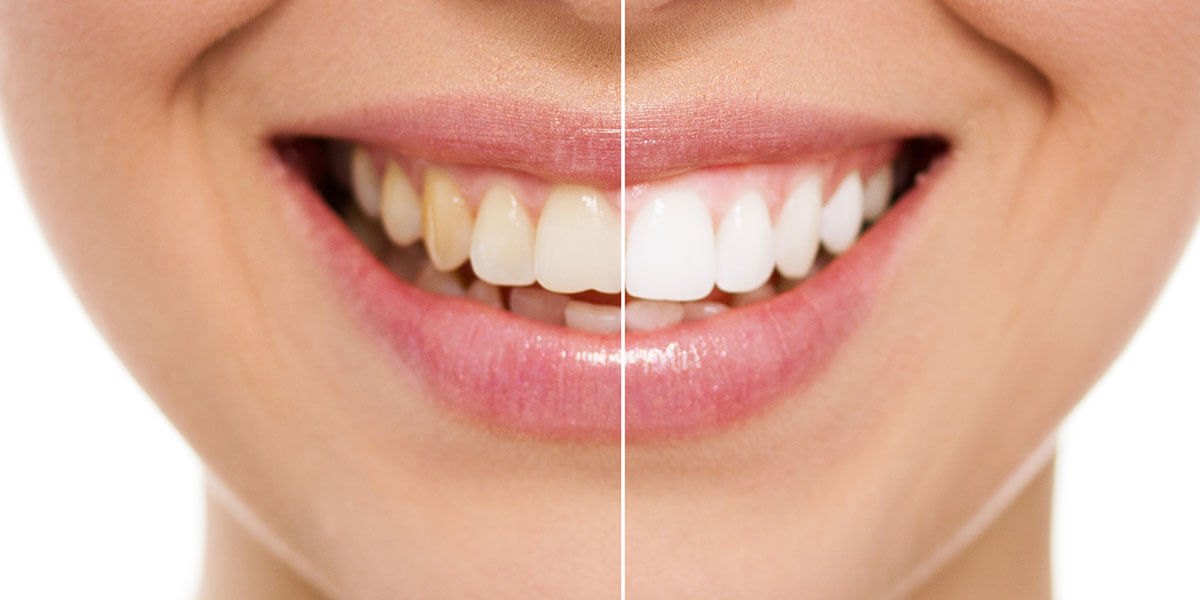 ---
---
Smile Shack provides teeth whitening services in Port Jefferson Station, NY. Call 631-928-7500 to learn more and schedule your appointment.
Do you feel self-conscious about your smile because your teeth are yellow or stained? You're not alone—in fact, it's one of the most common complaints people have about their smiles. As we get older, our tooth enamel thins, making our teeth appear yellower. When you combine this with a cup (or two) of coffee each morning and a glass of red wine at dinner, your pearly whites aren't nearly as bright as they once were. Stains and yellowing can also be caused by smoking, tea, and common medications.
Fortunately, professional teeth whitening can give you a radiant smile in a short amount of time. While there are numerous over-the-counter whitening kits accessible these days, dentists provide the safest and most effective teeth whitening solutions. At Smile Shack, we have our very own Shack Glo (Guided Light Optics) Whitening system to brighten your smile instantly.
---
In-Office Teeth Whitening
---
You can achieve the most dramatic results with in-office teeth whitening treatments. During this procedure, a barrier is applied to your gums to protect the soft tissue, then a bleaching agent containing hydrogen peroxide gel is applied to your teeth. Our revolutionary Glo Light technology uses light and heat to activate this whitening agent, enhancing its results. After four 8-minute cycles, you'll see a noticeable improvement to your smile. Best of all, we'll provide you with a Glo Light to use at home for touch-ups whenever you need them.
---
At-Home Teeth Whitening
---
For patients with mild discoloration and stains, at-home teeth whitening allows you to brighten your smile from the comfort of home. Our office's take-home whitening kits are more effective than whitening products purchased online or in stores because they use custom-made trays that are meant to fit your teeth perfectly, as well as a professional-grade bleaching gel available exclusively from dentists. We'll show you how to use your at-home whitening kit and provide you instructions on how often and how long you should use it.
---
Frequently Asked Questions About Teeth Whitening
---
What is the best whitener for your teeth?
---
The most effective solution is in-office teeth whitening, which produces the most dramatic results in the shortest amount of time. It's also more convenient, as it only requires a single office visit rather than weeks of wearing whitening trays or strips.
---
Is teeth whitening bad for your teeth?
---
Teeth whitening is not harmful when administered or supervised by a dentist. Teeth can become sensitive if you don't use whitening products as directed, and without protective barriers, there's a risk of irritating soft tissues.
---
How long does it take to whiten teeth?
---
Shack Glo Whitening procedures in our office usually take under an hour. At-home whitening takes 1 to 4 weeks, depending on the degree of staining and the results you want.
---
Does whitening remove stains?
---
Teeth whitening is able to remove most stains. In the rare cases where it can't, there are other options available, including bonding and veneers.
---
How can I keep my teeth white and healthy?
---
Avoid tobacco and staining beverages after your teeth whitening treatments. If you drink coffee, tea, or red wine, brush your teeth or rinse with water after. Brush your teeth twice a day for two minutes, floss daily, and have your teeth cleaned every six months. When you notice stains or discoloration, touch-up your smile with your Glo Light.
Call 631-928-7500 to schedule your appointment.
---